Welcome to Revcontent. Signing up to be an advertiser is very simple. Start by clicking here. Then fill out all of the necessary information, including setting up your first campaign.
For those wishing to sign up with a joint account or solely as a publisher, please click here.
Page One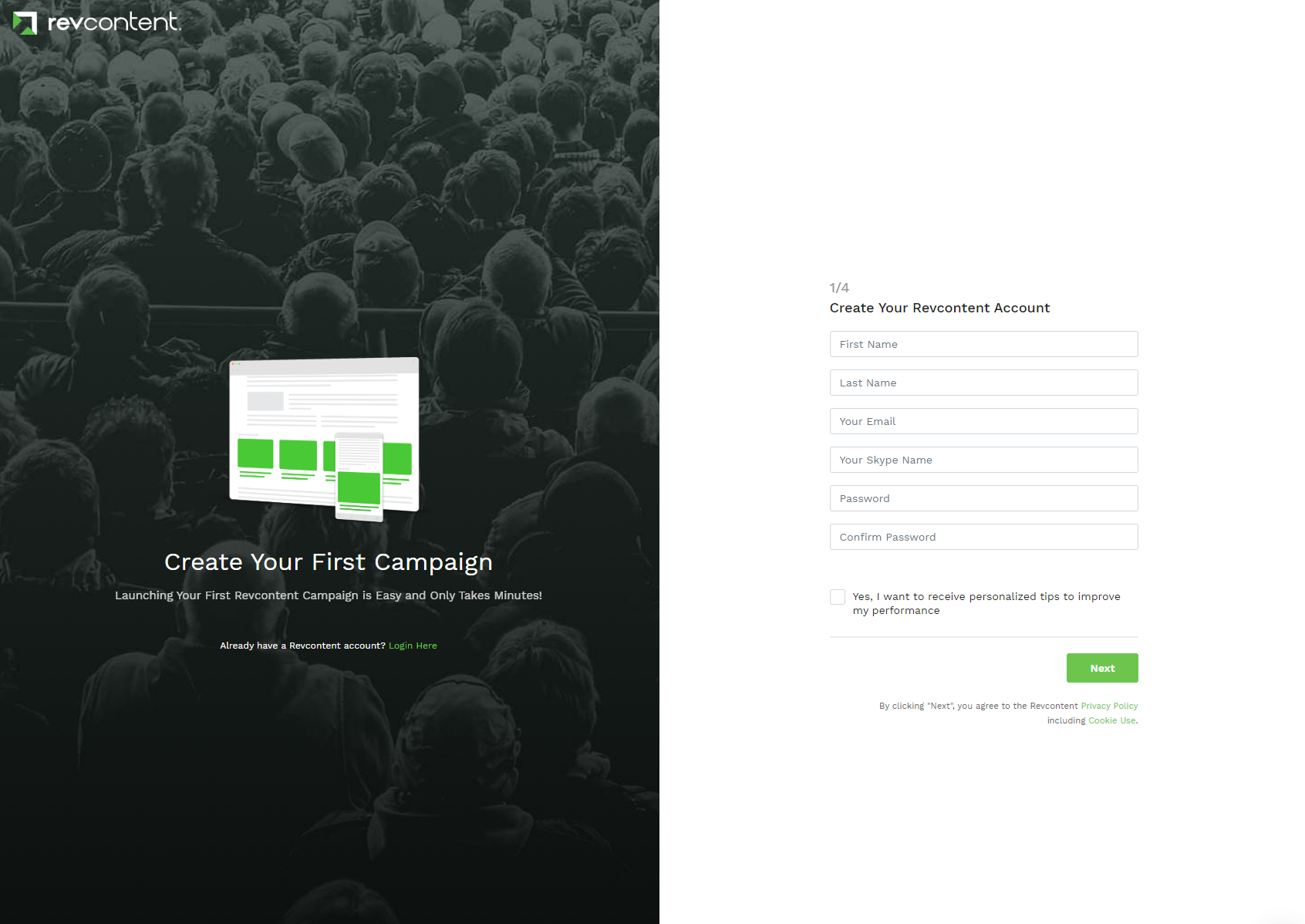 The first page will ask you to provide your contact information. All fields are required except for your Skype name.
Please be aware that a unique email is required to create an account. If you have already setup an account with Revcontent, you will need an additional email to create a new account.
Page Two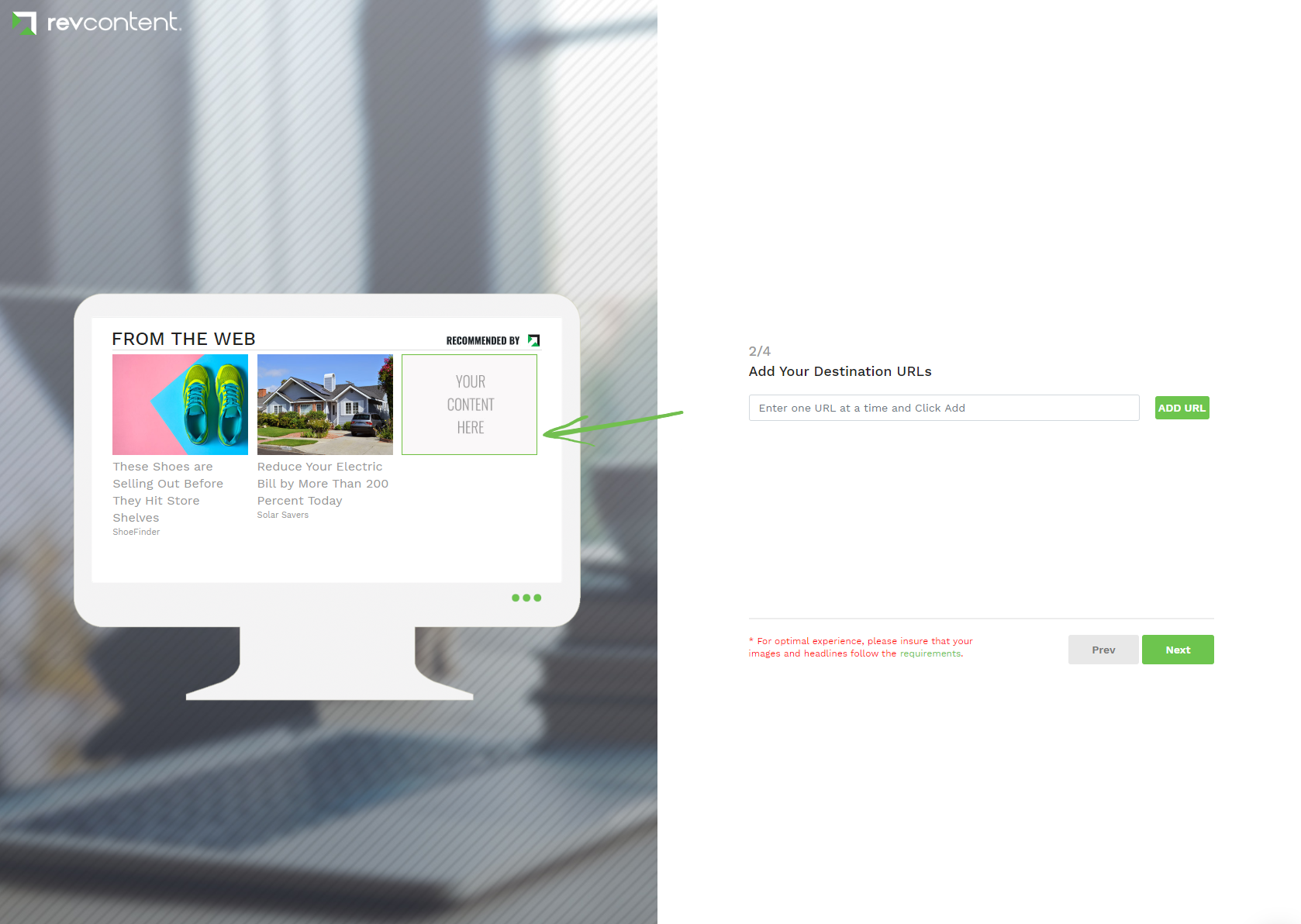 On page two you are going to begin setting up your first campaign. Start by adding in the URL for the offer or content you are looking to promote. Please be aware that http:// or https:// is required for the URL to validate. Once you have done so, our system will scan your url and grab a suggested Image, Headline, and Brand name for your campaign.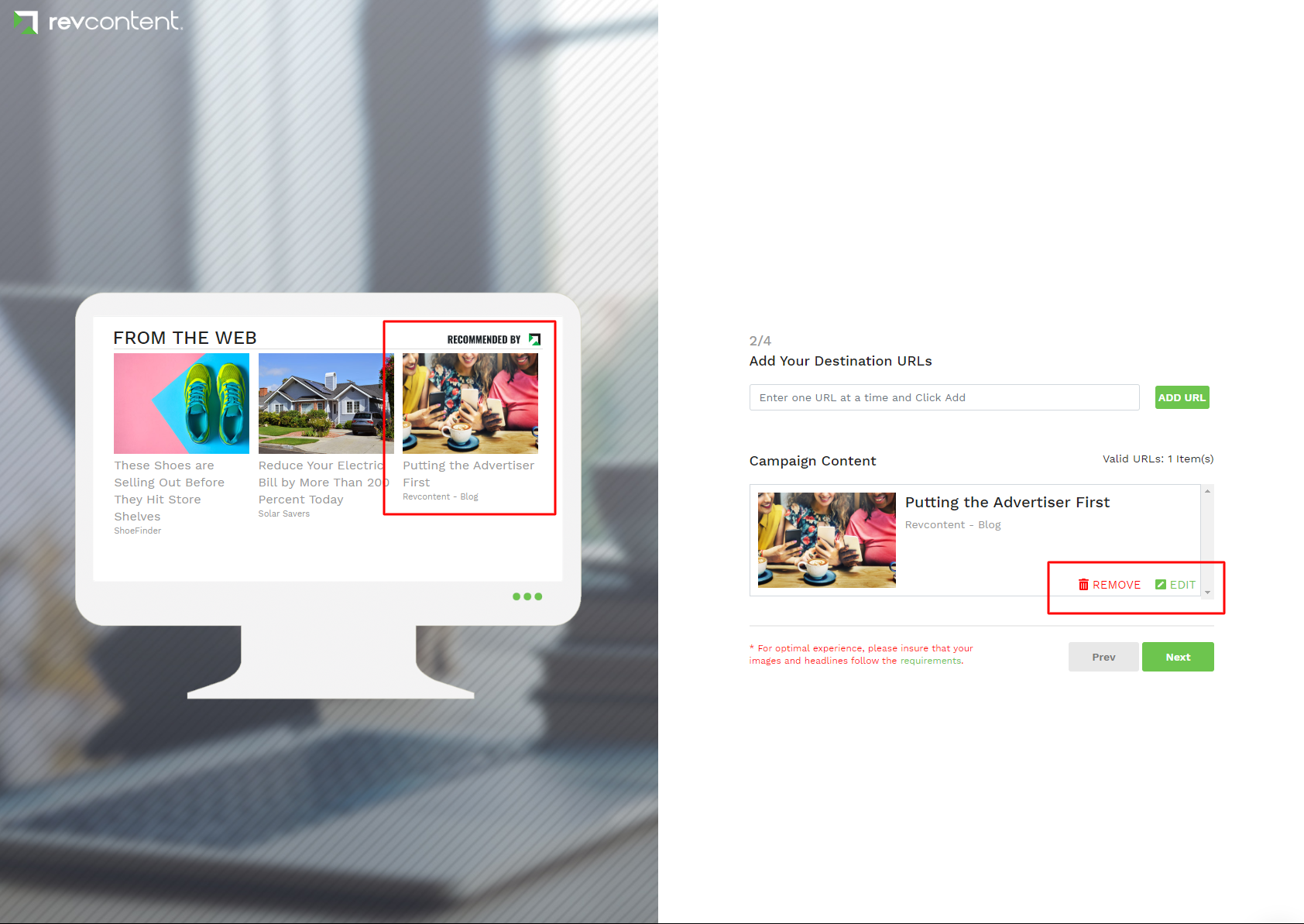 If you are unhappy with any of this, feel free to click the edit button and you can update any part of the ad copy you like. We would recommend checking out our image and headline guidelines, by clicking here, to ensure your content is setup to meet our guidelines. A link to this can also be found at the bottom of page two during the signup process. We've also created an Image and Headline Checklist to help during the set up process, which can be found here.
You can create as many pieces of content you would like at this point simply by adding additional URLs. These can be the same as the one you have already submitted.
Page Three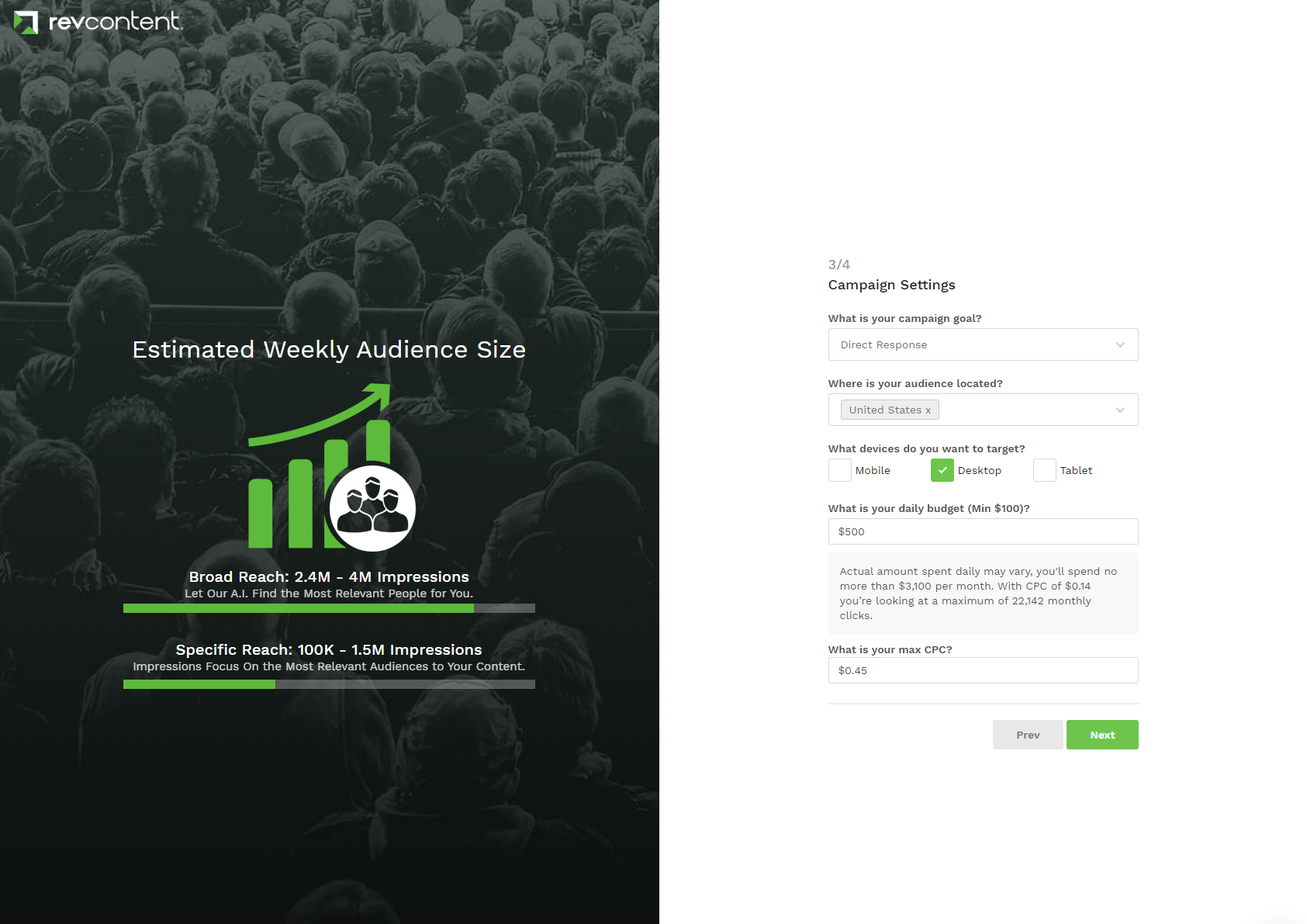 Page three is where you can start to set your campaign's budget settings. After you complete the signup process, we recommend you go to your new campaign's settings tab to ensure all other settings meet your standards.
Before starting, we recommend speaking with your account representative or support@revcontent.com to ensure your campaign settings are optimal to ensure your success when getting started.
Page Four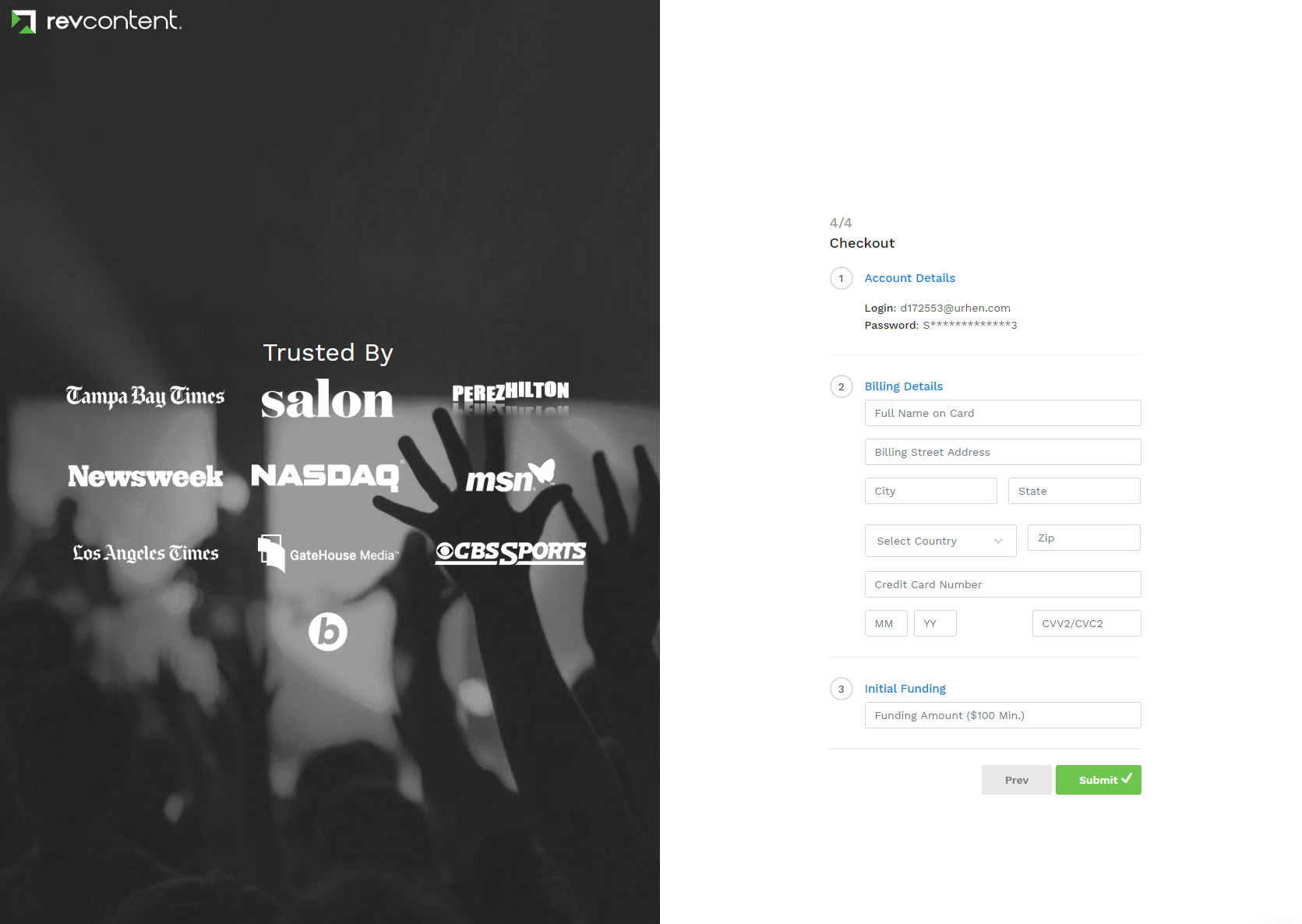 On the last page you will submit your credit card information along with the amount you would like to add to your account for your initial test.
Please be aware that our minimum campaign budget is $100 and if attempting to run more than one campaign, you will need to have sufficient funds to cover all campaigns budgets.
Did this answer your question?