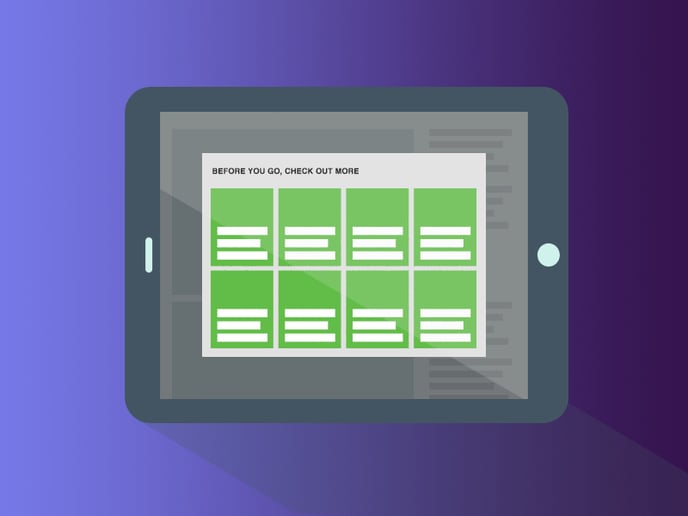 RevExit comes to view as the user mouses off the page on desktop or remains idle on mobile. It's used by placing a script like shown below.
<script id="rev2exit" src="https://labs-cdn.revcontent.com/build/revexit.min.js?w=123&p=456&k=123abc&d=mysite.com&x=both" type="text/javascript"></script>
Options
Default values are shown.
All options are passed in to the script as query parameters.
d(required)
domain
k(required)
api key
p(required)
publisher id
w(required)
widget id
ch
"Closed Hours", The interval at which RevExit will remain closed for. Defaults to 24 Hours or 1-day if not provided.
dl
"Disclosure Label", allows custom branding label to meet FTC guidelines, defaults to "Sponsored by Revcontent", 50 Character limit
i
internal (none, rndm, top, btm, or all) default is none, internal ads will have provider labels attached, set to "all" for internal only
j
background mode, defaults to "default", options are "classic", "default" OR custom RGBA OR Hexadecimal color OR a handful of HTML color names (red, blue etc.)
ml
"Mailing List" Feature, multi-key parameter for Mailchimp Integration, ml=APIKEY;LISTID;HEADLINE;MESSAGE;BUTTON;THEME;CHOICES, default = disabled, THEME options are "taskbar" or "tile", CHOICES is comma separated list of options.
po
"Provider Options", control display of provider label on ad units. Choices are "disabled", "all", "sponsored" or "internal" (Default)
ps
Panel Size, choices are "3x2" or "4x2" defaults to 4x2, NOTE: for HD modes only!
q
"query_params", key value object for query params to send to server. Can be multidimensional
r
"Regions" or zones that RevExit will trigger once departed, default = "all", can be set to "top", "bottom", "left" or "right". Combinations are also accepted, ex. "left,right"
s
change api end point server, ex: s=trends-stg.revcontent.com, default is production (trends.revcontent.com)
t
testing (set value to true to always pop onload, no cookie check!) default is false
x
"both" or "true", default is "both", can also can be set to "mobileonly" or "mobile" if enabled will pop on mobile/tablet after "z" seconds of inactivity, for Desktop only use "desktop" or "false"
z
inactivity trigger duration in seconds, defaults to 6 seconds if not provided, minimum of 6 seconds allowed